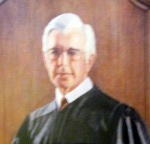 E. Gordon West served two courts as United States District Judge, including eleven years in the Eastern District of Louisiana court before reassignment as one of the first judges of the United States District Court for the Middle District of Louisiana, headquartered in Baton Rouge.
Judge West was born on November 17, 1914, in Hyde Park, Massachusetts. He received a B.S. degree from Louisiana State University in 1941, and an LL.B. in 1942 from LSU Law School. He and a law classmate "life-long friend, law partner, and senior United States Senator from Louisiana, Russell B. Long" won the school's moot court competition. An annual scholarship in his name is now awarded at his alma mater. Judge West served in the United States Naval Reserve during World War II and later became a Louisiana State Department of Revenue attorney from 1945 to 1946. He was a Louisiana State Inheritance Tax Collector from 1948 to 1952 and practiced law in Baton Rouge until 1961. On September 5, 1961, with Senator's Long's strong backing, Judge West was nominated by President John F. Kennedy to the federal trial bench in the Eastern District. He was confirmed by the United States Senate and received his commission the next day, on September 15, 1961. He served as chief judge in the Eastern District from 1967 until April 16, 1972, when he was reassigned to the new court in the Middle District. He was chief judge of the Middle District from 1978 until November 27, 1979, when he assumed senior status. Judge West served in the Middle District for 20 years until his death on November 2, 1992.
In 1975, in Davis v. East Baton Rouge Parish School Board, 398 F. Supp. 1013 (D.C. La. 1975), the Baton Rouge public schools desegregation case, an intervenor filed a motion for supplemental relief seeking greater racial mixing in the schools by bussing students to different schools. Judge West held that the school system was a unitary system operated as neighborhood schools on a nondiscriminatory basis. He held that there was no need to force greater racial mixing than what existed. The United States Court of Appeals for the Fifth Circuit reversed his decision finding that it could not determine from the record whether the school board met its burden of demonstrating that the racial composition of the schools that were predominantly one race was the not the result of the school board's present or past discriminatory actions. Davis v. East Baton Rouge Parish School Board, 570 F.2d 1260 (5th Cir. 1978).
Judge West was widely praised for his protection of the rights of prisoners in litigation challenging the constitutionality of conditions of confinement in the Louisiana State Penitentiary at Angola. In 1975, Judge West ruled that Angola prison conditions "shocked the conscience" and entered an injunction designed to improve the penitentiary and decentralize the Louisiana prison system. The Fifth Circuit affirmed, remanding for determination of specific inmate population and security staffing requirements. Williams v. Edwards, 547 F.2d 1206 (5th Cir. 1977). The Angola Museum website intimates that Judge West's order resulted eventually in quadrupling the number of security guards; major facilities renovations, including construction of four new camps; and improved rehabilitative efforts and prisoner medical care at Angola.