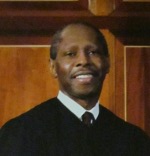 Okla Jones II, was born in Natchitoches, Louisiana, on September 23, 1945. He attended Central High School graduating first in his class in 1964. He attended Southern University in Baton Rouge, Louisiana, where he received a Bachelor of Arts degree in Political Science in 1968. He matriculated at Boston College School of Law and received his Juris Doctorate in 1971.
Judge Jones held positions as a Staff Attorney with the Reginald Heber Smith Fellow, the State American Civil Liberties Union, and the Orleans Indigent Defender Program; Director of the Tulane Law School Employment Discrimination Clinic; Project Director of the Lawyer's Committee for Civil Rights Under Law, Associate with Douglas, Nabonne & Wilkerson; Partner with White, Jones & Lombard and Jones, Nabonne & Wilkerson; and Special Counsel to the City Council, City of New Orleans.
In 1986, Mayor Sidney Barthelemy appointed Judge Jones as the first African-American City Attorney for the City of New Orleans. As City Attorney, Judge Jones was remembered for always giving his best and honest opinion. In 1991, he was elected to serve as Judge, Civil District Court, Parish of Orleans.
Judge Jones reached the pinnacle of his career with his appointment by President William J. Clinton and confirmation by the United States Senate as a federal judge in October 1994. During his investiture ceremonies, he highlighted those principles which influenced his life most profoundly: family, scholarly work, and the Judaeo-Christian ethic. He always found time to devote to his family, especially his only son Jarred, who was a source of pride at all times. Judge Jones was in constant study and was given to philosophical quotes from the most respected writers and poets. He maintained an evenhanded temperament at all times, respecting all, understanding all. He took pride in helping others and making a way for others to realize their potential.
As was his custom, Judge Jones devoted a great deal of his prodigious talents to public service. He was a member of Kappa Alpha Psi Fraternity, Inc., the American Bar Association, the American Judicature Society, the Louisiana State Bar Association, the National Bar Association, the National Conference of Black Lawyers, the Louisiana District Judges Association, and the Greater New Orleans Louis A. Martinet Society, Inc.
Judge Jones was a quiet man who thought of others first. He touched the lives of many with his selfless commitment to justice for all. Former City Councilman Lambert Boissiere, a long time friend, said Judge Jones will be "remembered as one of the finest city attorneys New Orleans has ever had." He was a hardworking, competent, and fair judge. The late Chief Judge Morey Sear commented that Judge Jones was diligent, always prepared and very congenial. Judge Sear was very proud to have served with Judge Jones on the federal bench. Judge Sear could often be found in Judge Jones' Chambers discussing legal matters as well as community affairs. Former United States Senator John Breaux, who recommended Judge Jones' appointment, noted that during Judge Jones' brief time on the bench, "he proved to be one of the brightest and hardest-working judges in our nation's judiciary."
On January 8, 1996, Judge Jones' untimely death represented a great loss not only to his family but also to our justice system and to our community. A life such as this will never end but will live forever in the memories of his family, other relatives and friends, and all those whose lives he indelibly marked.