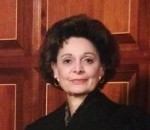 The United States District Court for the Eastern District of Louisiana overcame the Louisiana federal court's gender barrier when the court appointed Veronica "Ronnie" Di Carlo Wicker as the first female Louisiana federal magistrate judge in August 1977. On September 25, 1979, after being nominated by President Jimmy Carter to a new seat on the Eastern District of Louisiana, Judge Wicker was confirmed by the United States Senate as the first female United States District Judge in Louisiana, and reportedly the first Italian-American woman so appointed in the country.
Judge Wicker was born on November 26, 1930, in Monessen, Pennsylvania. After graduating from Fairfax Hall, a Virginia boarding school, she attended Syracuse University where she graduated in 1952 with a Bachelor of Fine Arts degree. Thereafter, she worked as an interior decorator in New York City. One year later, she migrated to Boston, Massachusetts where she was employed at the Massachusetts Institute of Technology as a secretary to a distinguished philosophy professor.
In 1955, Judge Wicker's parents moved to New Orleans, and she soon followed. After moving to New Orleans, Judge Wicker became employed as a secretary/law clerk by F. Irving Dymond, a high profile criminal lawyer, and she assisted him in some of his highly publicized cases.
In 1961, at Dymond's urging, she enrolled in Loyola University Law School's night division, which she attended while continuing her employment with Dymond. In 1965, she married Thomas C. Wicker, Jr., who later became a Louisiana State Appellate Judge. After her marriage, Judge Wicker matriculated into Loyola Law School's day division from which she graduated in the top 10% of her class.
After law school, Judge Wicker worked as a career law clerk to United States District Judge Lancing L. Mitchell for 11 years. Judge Mitchell, who had great confidence in Judge Wicker, assigned her extensive duties and became one of her dearest friends and strongest supporters.
Judge Wicker's initial allotment included ten class action suits. Judge Wicker worked assiduously many nights and weekends. Judge Alvin Rubin of the United States Court of Appeals for the Fifth Circuit acted as a mediator to assist her. He came from Baton Rouge to New Orleans one night per week for six months to meet with attorneys. Thanks to his efforts, Judge Wicker eventually settled one of the class action suits.
As befalls all judges, Judge Wicker had a number of contentious cases. One of the most ironic involved a drug case in which a feisty young female Assistant United States Attorney, represented the government and a combative attorney represented the defense. There were heated arguments throughout the three-week trial. Judge Wicker reigned in both attorneys daily, regaling her husband with their antics each night. The AUSA later entered private practice and became Judge Wicker's daughter-in-law when she married T. Carey Wicker, III. That former AUSA developed a close and loving relationship with Judge Wicker and is now Judge Fredericka "Ricky" H.  Wicker of the Louisiana Court of Appeal, Fifth Circuit.
The prospect of being overruled was something Judge Wicker acknowledged with great humor. Her longtime secretary said, "Whenever someone didn't like her ruling, she'd always say 'You can go across the street to the 5th [Circuit Court of Appeals].'" That saying was engraved on Judge Wicker's chamber door knocker. When she was reversed by the appellate court, she would tell her husband, "you can't win them all." On December 10, 1994, Judge Wicker passed away while still in office at the age of 64.