Reprinted with permission from the Federal Bar Association, New Orleans Chapter
 The Advocate, Summer edition 2013 Vol. 22, no. 4

The year was 1970—Jimi Hendrix and Janis Joplin died, the Kent State shootings occurred, American Motors introduced the Gremlin, Casey Kasem began American Top 40, and Elvis Presley began his first concert tour since 1958. It was also the year that Loretta Garvey Whyte began her long and distinguished career in the United States District Court for the Eastern District of Louisiana.
For many people, Loretta's life before 1970 would have been a plateful. She had married, then divorced when she was 5 months pregnant and with a 10 month old son. However, on the urging of her brother, Tom Garvey, Loretta decided to choose a career path which few women chose back then–to enter law school. Loretta said: " I decided to leave the family's telephone answering service business to make a better life for my family." Her daughter, Kathy Whyte, remembers her mother in night class while Kathy and her brother played outside in the law school building hallway. "I don't know how she did it, raising my brother and me, working, and studying so hard in law school. Her strength, religious faith, the support of her family and her best friend, Michelle Pitard Wynne, helped her through." Loretta doubted herself and her ability to attend law school, but after enrolling, she enjoyed law school thoroughly because it stimulated her analytical mind.
Upon graduating from law school in a class of just eight women out of 140 students, Loretta accepted a judicial clerkship with Federal Judge Fred Cassibry. Her law school classmate and fellow Judge Cassibry law clerk, Judge Carl Barbier, remembers Loretta's early days at the court. "There were no computers in those days. The court had two typewriters, one manual and one electric. Loretta let me use the electric typewriter because I needed more help." Judge Barbier left his two- year clerkship early to take a job with a private firm, but he recalled how Loretta had already become such a great asset to the court. "She was very bright and had such good common sense that when Judge Cassibry's permanent law clerk returned from a two-year leave of absence, the Clerk of Court saw an opportunity to hire Loretta." Judge Barbier recalled: "Nelson Jones (Clerk of Court) knew immediately how valuable Loretta was as an administrator and how well she managed people."
Loretta became Deputy Clerk of Court in 1971 and later was appointed Clerk of Court in 1983.
Chief Magistrate Judge Alma Chasez has known Loretta since before each began working for the federal court, and when Judge Chasez was law clerk to Loretta's brother, Judge Richard Garvey in the Civil District Court in New Orleans. She recalls Loretta fondly as someone who would always put one foot in front of the other. "Loretta was always moving forward and persevering through some of the toughest times." Judge Chasez describes her as follows: "Loretta is never wrapped up in herself. She's not stuffy and never takes issues out on someone else. She has a willingness to want to work with others and have a good time along the way. She makes friends, and she keeps them."
Judge Ginger Berrigan (Chief Judge, 2001-08) remembered when she attended Chief Judge orientation in Washington, D.C. in 2001. "There were 10 different components of orientation taught to the new Chief Judges. The director told everyone that we needed to pay close to those speaking on each administrative topic, except for me because as he said: 'You don't have to worry because you have Loretta.'"
Judge Berrigan describes Loretta as a "most conscientious and thoughtful person, who is self- effacing and does not like attention. She feels more lucky than good." Judge Berrigan paid tribute to both Loretta and her Chief Deputy Clerk of Court, Gene Smith, for their actions following Hurricane Katrina. "Loretta and Gene both lost homes, but both left New Orleans for Lafayette to set up a temporary office, putting aside their concerns for their homes and lives. Loretta's and Gene's example inspired others to pitch in and to re-establish the court in the wake of Katrina," Judge Berrigan said. "To Loretta, the catastrophe which was Katrina was just another challenge."
As a result of Loretta's leadership and through the efforts of her staff, the court did not skip a beat after Katrina. The Court was able to operate for filings by the middle of September, and the courthouse re-opened in New Orleans just six weeks later, on November 1st.
Judge Sarah Vance (present Chief Judge, 2008- 15) notes that the fact that Loretta is a lawyer and understands litigation and the role of the court is paramount. "Federal regulations are important in what we do, and Loretta understands them from her days as an attorney. And if she does not know the answer to a question, she always gets the answer quickly."
Judge Vance points out that Loretta began her career in the clerk's office in the days of manual typewriters and when the technology department did not even exist. Since that time, the court has gone to computers, e-filing, technology in the courtroom, and now to Wi-Fi, all under Loretta's leadership. This has enabled the court to oversee some of the largest MDL/Class Action cases in the country including the pharmaceutical Vioxx, Chinese drywall, Hurricane Katrina and the BP case, among others. But perhaps most telling about Loretta, as Judge Vance pointed out, is the fact that over a career that spanned 42 years, she has worked for six Chief Judges and over 40 federal judges, all the while serving at the pleasure of the bench. "Loretta has had such patience to work with all those prima donna judges." As a result, she is the second longest serving Clerk of Court in the federal judiciary.
Gene Smith, Loretta's Chief Deputy Clerk since moving from the Western District Courthouse in 2004, could not place enough emphasis on how well he and Loretta worked together the past eight years. "With the budget getting tighter and tighter every year, we've had to do the same work with fewer and fewer federal funds, and with no money given to the court from filing fees," said Gene. Loretta has led her staff to continue to provide the same, and often better, services, with fewer funds by stretching every penny. The court will expand to Wi-Fi capabilities this year.
Judge Peter Beer (Senior Judge, 1979-present), who is the longest serving judge in the Eastern District and has worked with Loretta now for 34 years, said that Loretta was the "Mother Hen over all the judges." Judge Beer described how Loretta once took care of one of the Senior Judges who was in poor health and who was dependent on a wheelchair to get around. "One of our older judges who was not doing well was at a conference in Texas," Judge Beer recalled. "Loretta put me and my wife, Margie, in the same hotel (but on a different floor), and made sure that we were on the same flights as the more senior judge so that we could look out for him without his really knowing."
But Judge Beer most recalls how Loretta embraced new technology for the court. "Of all of her strong points, her strongest was her absolute willingness to get as modern and technologically integrated as the court could get."
During my interview with Loretta, her self- effacing demeanor immediately came to the forefront. She led the interview by stating that she was blessed with "amazingly good and competent people" around her who made her job easy. "I always tried to educate the staff on new changes before implementing those changes, and they always embraced the changes and new technology."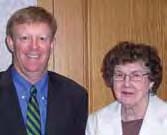 Regarding her Chief Deputy, Gene Smith, Loretta said: "If I had only had 1/2 or 1/4 of the brains and competence of Gene, I might have stayed [Clerk of Court] forever."
Loretta said that when she was first hired, she did not even take life insurance benefits through the court because she did not plan to be there for more than a year. Fortunately for the court, and all of us, she was wrong on that prediction.
When I asked Loretta about the accolades given by the other judges on her role (and Gene Smith's role) in re-establishing the court post-Katrina, even after losing her home and most of her personal property, Loretta said: "It didn't occur to me to worry about a place to live. Continued operation of the court was of primary importance."  And of course, she gave all of the credit for getting the court functioning again after Katrina to Gene, Denise Fredericks,  Patti Soule and all of the staff, as well as Judge Berrigan for her leadership.
Loretta also credited her longevity in the courthouse to having worked under wonderful Chief Judges. She said that the Chief Judges, particularly Judges McNamara, Berrigan and now Judge Vance, have always been available, accessible, and not micro-managing, just very supportive of her.
And on the issue of technology, Loretta said that she knew moving forward, the court needed to be on the cutting edge on technology, despite budget woes.   However, again she was the pragmatist in how she proceeded. "I never wanted to be in the first wave of a new technology because I wanted them to work out some of the bugs first."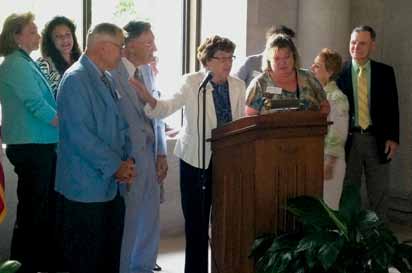 And Loretta never took "No" for an answer when it came to technology. She recalled one time when the Administrative Office would not provide the funds to the court for computer research technology.  Loretta recalled: "So we had a communication line installed from the U.S. Fifth Circuit building, where they had the computer-assisted research, to the U.S.D.C. courthouse to get the same research ability."  The Administrative Office increased the budget for computer-assisted research the following year.
Loretta also credited her achievements at the court to her family. "My family was wonderful all those years. I had a lot of help from Mom and Dad, who helped to raise the kids while I studied in law school." And her faith played an important role as well. During her time at the court, Loretta lost a son, her best friend, Magistrate Judge Michelle Pitard Wynne, and her younger brother. "I don't know how people live without faith", she said. "It's the reason for being." Loretta intends to stay active in retirement and plans to perform a lot of volunteer work, particularly for Legal Aid and also Second Harvest. To her, retirement will be a second career, but perhaps with more time for her to spend with friends and family. "I need their companionship, and they need mine."
In reflecting on 43 years working at the court, Loretta summed up her career this way: "I have been treated like a favorite child, good has been returned to me, full measure, pressed down and flowing over.  I have been treated beautifully, accepted and loved, and I have never been bored. I have received so much more than I could ever possibly give."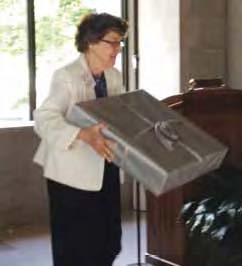 Peter Beer said that he recently met with Loretta to discuss her impending retirement. The two came upon a poem which they felt best summed up their feelings on the subject:
For age is opportunity, no less;
Than youth itself; tho' in another dress;
And as the evening twilight fades away-
The sky is filled with stars, Invisible by day!
- Longfellow (1807-1882)
Let's all hope that Loretta's second career is as successful as her first!
Peter J. Wanek is a partner with the law firm of McCranie, Sistrunk, Anzelmo, Hardy, McDaniel and Welch, LLC in New Orleans, and a Member of the Board of Directors of the New Orleans Chapter of the Federal Bar Association. He would like to specially thank Gene Smith for assisting with this article, as well as those who contributed, as mentioned within it.